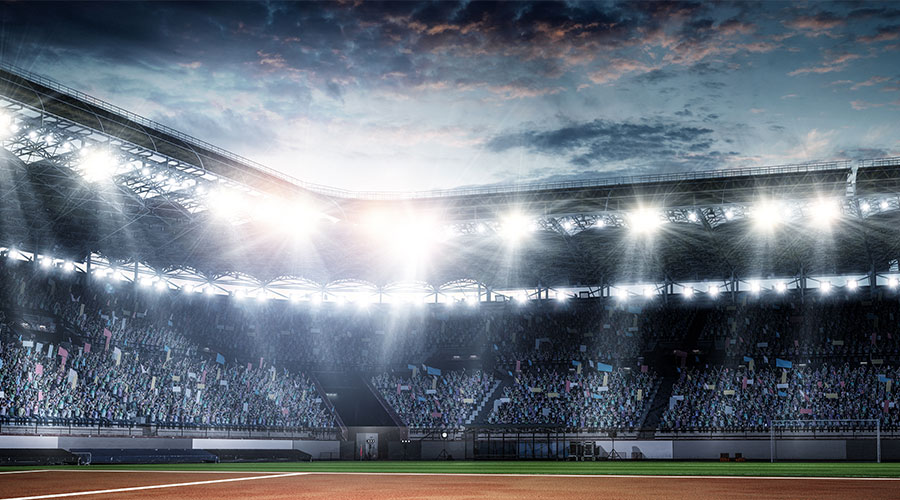 When looking at all the majestic sports stadiums we come across, we wonder only about the great sports moments that have been made there. We fail to stop and think how much effort it takes to keep the sports stadium active every week throughout the year, season after season. How much energy does such infrastructure use? To answer this we decided to study the energy efficiency of sports stadia.
We will be discussing the efforts of powering a cricket stadium and football grounds, looking specifically at sustainability initiatives that have been adopted to cut down costs and emissions.
It's time to see if the business of providing sports entertainment is able to come out as the winner.
Advancing energy efficiency in Sporting venues
With more pressures on governments to meet greater standards in climate change, the responsibility of using energy efficient measures to help with environmental sustainability in any shape or form it trickles down into industry and business.  In the world of sport, this goes from cricket stadium to swimming pool heating.
The discussion of 'going green' is by no means a new movement or idea, this has been a hot topic for decades slowly simmering with much of the global industry acting a little too late.
When it comes to government action, you can read a paper on advancing energy and water efficiency in sports venues but there is no legal power for a government to 'force' private companies to improve, so any action taken on a sports stadium is made by the privately owned business themselves. The paper discusses the need for re-education so that the impact and changes can be understood at a local, national and then international level.
How Much Energy Does a Sports Stadium Consume?
What kind of energy management takes place within the leading sports stadia? To answer this we look at two of the most popular sports and share the energy details behind football and cricket.
Football Stadium
In the industry of football, there is an agreement in place that secures investment in renewable energy. This is to safeguard the future of the sport for generations. The biggest impact of climate change is fossil fuels, and these are a finite resource. Consumption must be lowered and smarter ways of generating power are essential. Football is the biggest global sport and is, therefore, incumbent of the businesses to make necessary changes.
The size of energy used is relative to a number of factors. Stadia vary in size and scale. You have local teams with a lower carbon footprint and then you have those in a larger city and state stadiums with a higher outlet of energy happening.
Some of the biggest stadiums in the world can use up to 25,000kWh (kilowatts per hour). during each match. That amount of power can supply 10 houses for over 12 months.
Now in America, their stadiums are even bigger with American football and baseball. It's been recorded that one area powered more energy than the entire continent of Africa.
Cricket Stadium
Cricket stadiums are in no greater position, more lights are required, and bigger screens are used because of the size of a cricket pitch. These grounds swallow up energy on an industrial level. Any cricket club of India can be faced with a sizable bill given that there are on average 8 lighting towers. These feed off a staggering energy supply that is approximately 11kV (kilovolts). This massive size of power needs a transformer to reduce the load to approximately 1800Kilowatts.
Because cricket is the national sport, there are more games which adds to the ever-growing rise in energy being used. As a result, more consumption leads to a recorded 620,000kWh over 12 months. As cricket stadiums are powered by generators and not off of direct gird because that would cause a national outage, the total carbon footprint is about 3% of India's entire carbon score. More can be read about India's energy saving initiatives in our India Case Study.
How Are Sports Authorities Addressing Energy Efficiency?
There is a clear and present danger with the levels of power that is being drawn from fossil fuels. To address these, changes are being made – though still in testing phases. One of these is a model developed by Dr. Mahesh Naik for electrical energy conservation in cricket stadiums. One of the proposed ideas would see the world's largest solar rooftop installation on a cricket stadium. There are cricket stadiums within the IPL that are beginning to install solar roofing panels to help them become more environmentally friendly.
A solar-powered cricket stadium would massively reduce the cost spent on energy, with old methods creating bills at around 1 or 1.2 crores, which is an approximate cost of 18 lakh units of power.
With solar intervention, the power is more than halved to 6 lakh units, which is now solar power.
Sports Stadiums Excelling in Energy Efficiency
Energy renewal and efficiency go beyond the simple pleasures of lighting a sports stadium. In India and across the world, there are many more ways that energy consumption can be reduced.
Here are some examples of how energy consumption at some sports stadiums is being reduced:
Pitch Generated Power
Advances in science have helped to create tiles that are laid beneath the pitch. These tiles collect kinetic energy that can be put back into the sports stadium and save running costs, given there are massive overheads on a daily basis, even outside of game nights.
Organic materials
A sports stadium can reduce its climate impact by utilising a 100% organic pitch. This will cut down on nitrogenic fertilizers. Instead, organic materials like coconut wetting agents and compost tea can act as an organic fertilizer.
The quest for going organic can also be supported in the food that is served at stadiums and the banning of red meat products helps to reduce carbon further. This should not be difficult to implement especially in an Indian cricket stadium.
Recycling at a Sports Stadium
The most basic of energy saving initiatives is an efficient recycling regime at sports stadiums, training grounds and pitches. New generational turf helps in this area of recycling. Dutch manufacturers Desso make recyclable turf with no need for watering, fertilizers, nor cutting. The recycling comes from the reused rubber that makes the new turf. 10 tonnes of rubber is the equivalent of 2,200 tyres.
Conclusion: A Sports Stadium can Power Itself
The future is promising. Sports have left the act of cutting fossil fuels down and lowering carbon emissions late but the action is taking place and every bit helps. There are many businesses investing in energy smart lighting, adopting new recyclable measures and supporting more and more green initiatives for each sports stadium that they run. It's only in their interest as energy efficiency will only help their bottom line as they bring the best cricket and football matches to their fans. The progress being made here is refreshingly inspiring.
Source on football stadium measures: www.betiton.com/en-gb/sport/football/
Want to learn more about energy saving efforts around the world? Read our Case Studies.